In Her Closet – Season 2, Episode 1 – Ex Beauty Queen Mrs Ifeoma Williams
It's been 20 amazing episodes of In Her Closet and i'm thankful for every single interview. Meeting these amazing women and getting a sneak peek into their closets. It's the start of another season and it's going to be another round of fabulous women in every sector sharing their style tips and closet secrets.
The
Cerebral Lemon co,
owned by Ex-beauty Queen of the 1998 Miss Lux  beauty pageant, Mrs Ifeoma Williams is a company that constantly seeks to positively influence the perceptions and opinions of African audiences by connecting them to excellent media content.
I didn't quite pay attention to the vast difference between being a stylist and an image consultant until my interview with her. I was more than honored when she granted me this interview.
A trained lawyer, a mom of 2 boys, a wife and professional in her image consulting passion now turned career, Ifeoma Williams exudes style with very classy vibes. Giving credit to the Jackie Kennedy Era as her style influence, the Ex BeautyQueen shares a few things with me on this Episode of IN HER CLOSET. Enjoy!!!
E-INTERVIEW WITH MRS IFEOMA WILLIAMS
JAY: 
You are an epitome of style, what does style mean to you?
IFEOMA: Style is often misunderstood to mean strictly "dress style". For me, Style is all encompassing and more than pure appearance. It is the conveyance of an aura of distinction that is hard to define but easy to recognize.
JAY: Jackie Kennedy is your style icon, that's style in the 50's – 60's, there were hats (which I've seen you love by the way) and bright colors, geometric designs and structures… What shoe style from that era is your favorite?
IFEOMA: It would have to be the Opera, pump or what was called the "tall heel"
JAY: What's your favorite shoe style at the moment?
IFEOMA: I still love pumps, timeless elegance
JAY: Being an image consultant is holistic and goes beyond putting fashion pieces together. You're consultant to Mo Abudu of Ebony Life TV and a good number of influential personalities, do heel heights have an impact on personal confidence? Do you think wearing flat shoes to an executive board presentation would have an effect on delivery?
IFEOMA: I have styled many indeed and yes, previously, my dearest Aunty Mo.
Yes, heel height does impact confidence as with heels, you are forced to adjust your posture to give you the right "gait". There is nothing wrong with the "right type of flats" to an executive meeting. This should not affect delivery with the right posture.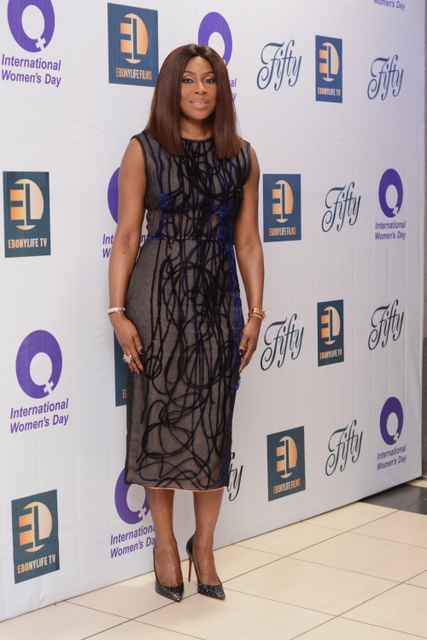 JAY: Luxury designers or high street brand, which would you go for?
IFEOMA: Excellent dress sense is mixing and matching
JAY:. Who's your favorite luxury footwear designer and why?
IFEOMA: I don't have 1 favorite; I like quite a few, but comfort and fit are key for me.
JAY: Please share an embarrassing shoe moment with us?
IFEOMA: My heel got stuck in a vent in New York City while I was staring at a handsome popular actor across the street.
JAY: Shoes, hats, bags, jewelry, clothes… If you had money to buy just one of these items, which would it be?
JAY: What are your favorite pair of shoes at the moment and why?
IFEOMA: I really wish I could remember all my shoes at this time, but cant, but I'm sure that they are pumps.
JAY: Your sense of style has definitely evolved over the years since being Miss Lux, what has been your most consistent style?
IFEOMA: I like structured, classic cut pieces
JAY: What shoe size are you?
IFEOMA: EUR7, UK 40, US 9
JAY: On a scale of 1 – 10, how important are shoes when styling a client?
JAY: In your years of being a stylist, what is the one style tip that has remained consistent and you'd like to share?
IFEOMA: I'm not a stylist, an an image consultant. fashion styling is one of the 3 parts of image consulting. One style tip is to enhance your best features and conceal your flaws.
I learnt a lot in this interview. Image Consulting is all encompassing and not restricted to just fashion. It involves creating and promoting a brand image through fashion and style, etiquette, carriage and gait and so on.
Until the next episode,
Peace, Love and More Shoes
XOXO
Jay
(Photo Credit: cerebrallemon.com, google images)