International Women's Day 2018 – 3 Women, 3 Quotes and 3 Shoe Designs
It's hard already being a woman, so everyday for me is a day to celebrate women – to lift up, encourage, support, empathize and love another woman. But, i won't pass up on the special days designated to specially celebrate us. And so to every woman – young, old, black, white, married, single, mother – every female gender in the human race, Happy International Women's Day!!!
"Spread love everywhere you go. Let no one ever come to you without leaving happier" – Mother Theresa
"Spread love everywhere you go. Let no one ever come to you without leaving happier."
This quote by MotherTheresa has been a life guide for me. It sounds easy but it involves a lot and i didn't realize that until i consciously started to try to put it to practice. It takes being empathetic, sacrifice, giving and loving unconditionally.
Still in celebration of women, I would highlight
3 powerful quotes by women that inspire me to be a better person,
3 women whose rise through their careers despite themselves, keep me on my feet,
3 pairs of shoes that embodies the kind of woman i admire and aspire to be.
The first quote is right up there and you should ponder on it too. This brings me to one of the 3 women on my list
LINDA IKEJI
We all know the popular blogger. If there's any gossip news you don't want to miss out on, her blog is your ultimate go to. We all know her story too – her rise from being broke, but holding on to her passion, working hard and being consistent, to the now very wealthy and successful blogger.
I see a woman who has been broken over and over again, talked down on, maybe at some point made to feel hopeless. But this woman believed in herself, blocked out all the noise and negativity, stood her ground, pushed and convinced herself to keep going till she became. In the process of building an empire, which only she envisioned, she carried many others along, young girls going through what she went through. She spread her seed of love everywhere.
The pair of shoes i would ascribe to Linda would be the Christian Louboutin Nosy Patent-leather and PVC T-bar pump.
Black Pumps that shows the drive and will power behind her every move.
T Bar Straps that shows the effeminate and sexy side.
Clear PVC and Patent Leather that shows openness and a heart ready to give and show love.
"If you want to achieve something in life, you have to take risks."
– Dipa Karmakar, Olympic gymnast.
This is another life quote i am learning to master. As a woman, it's quite difficult to want to take risks. When you have a family you're trying to nurture, it becomes even more so. But, to achieve and surpass boundaries, I have realized over time, that you HAVE TO take risks.
MO ABUDU
This woman embodies everything about this quote. She is the CEO/Founder of Ebony Life TV, the first PAN African TV station owned by a woman. She had the vision , she had a plan but in an uncertain world dominated by men. Mo quit her job where she was rising up fast to follow her vision and gave it everything she could.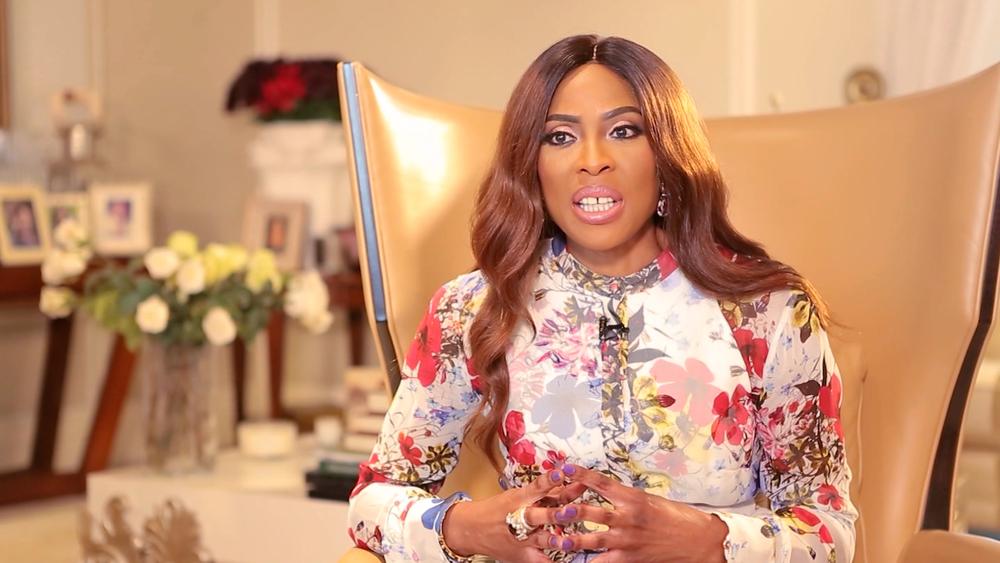 Again, she could have given up along the way, gone back to paid employment and maintain that sense of security. But she broke boundaries, she pushed and the rest they say is history. With countless awards, achievements, she keeps breaking barriers and soaring higher.
The pair of shoes that describe Mo's personality for me would be the Christian Louboutin Classic and Timeless So kate Pumps
Black leather Pumps shows Focus and Drive to reach her goal.
Killer Heels show the determination to succeed despite the challenges along the way.
Red Soles show Class and a bit of fun times here and there but without losing focus.
"Above all, be the heroine of your life, not the victim."
– Nora Ephron, American writer and filmmaker
There are many life situations that can render anyone into self pity and depression. But just as this quote states, be the heroine of your life.
Stop waiting for help or for your knight in shining armor. Pick yourself up and move along. It may be hard, daunting and hopeless but NEVER play victim.
FUNKE AKINDELE
Beyond being the popular jenifa that we love to love, she has fashioned out her life in such a way that she remains a winner despite the odds. From failed relationships in the media to a failed marriage and a recent miscarriage in her second marriage, she has refused to wallow in self pity and has kept a positive disposition through it all.
This doesn't mean she wouldn't have her down moments, but she doesn't remain there and form a pity party. We have seen her channel all that negativity into her career and movies production to create entertainment to the world and employment to many others and i can't help but love her even more.
The shoes that aptly describe Funke would be the Christian Louboutin Galeria studded Suede and Leather sandals
Black Leather and Suede shows Focus and Determination.
Stud embellishments show a side that loves to have fun.
Open sandals with straps shows the woman she is vulnerable, yet well put together.
Not in anyway does this mean i don't find other women Powerful or Successful, but for the purpose of this post and to me personally, these 3 women in reference to the 3 quotes and 3 shoe designs are some of the reasons why i will NEVER give up till i become.
How did you celebrate the day? It was mostly work for me, but now i'm in my happy place and i hope you enjoyed reading this post as much as i did writing it.
Who is your stand out woman?
What is that life changing quote?
What shoe design connotes Power to you?
Use the comment section or click on a smiley.
Peace, Love and Happy Women's Day
Xoxo
Jay.