In Her Closet – Season 2, Episode 3 – Fashion Designer Extraordinaire – Toyin Lawani
Hi guys, hope you had a lovely Valentine's day and week as me. Continuing in the spirit of love, i plan to make the last few days of this month count. If you missed the VALENTINE'S DAY SPECIAL of The Diary Of A Shoe Lover, you can catch up here.
I'm here with another episode of In Her Closet and this one features Lagos based fashionista- Toyin Lawani, the CEO of Tiannah's Place Empire and Creative Director of Tiannah Styling. After sending quite a number of messages to her on Instagram, requesting for a feature, in the space of one year with no response, i gave up.
Then on Christmas day, 2017, the universe aligned in my favor, and she was at Eko hotel with her son and crew, for the Nickeolodeon Christmas family party. I tend to be quite shy when it comes to face to face interactions, but i wasn't ready to let that opportunity go. So i approached Miss Lawani, pen and notepad in hand and gave it a shot. The worst she could say would have been NO.
She was surprisingly pleasant and so willing to grant the interview after i had introduced myself. To be honest, i wasn't expecting the full attention i got from her. You would have thought we were bosom buddies as she switched from English to Yoruba and back to English as we chatted. She even made a joke about my butt which had me literally laughing out loud. Unfortunately, my phone battery had died so we couldn't take any pictures together.
In the midst of our chit chat, she was working – scheduling photo shoots, confirming appointments, assigning duties to her Personal Assistant while trying to grab something to eat on the go. Go on and enjoy the interview with this business mogul who runs more than 10 different businesses.
She's a music video director, a celebrity stylist and fashion designer extraordinaire. This multiple award winning  Mum of 2 kids, with her own reality TV show on Ebony Life TV and the current ambassador of Payporte, the biggest online fashion portal is a force to reckon with in the Nigerian Fashion Industry.
IN HER CLOSET INTERVIEW WITH TOYIN LAWANI
JAY: What is your favorite shoe brand?
TOYIN: GUCCI. I simply love everything GUCCI.
JAY: What is the one thing you look our for when buying shoes?
TOYIN: Comfort, and Gucci gives me that.
JAY: What's your favorite shoe style?
TOYIN: Pointed toe shoes
JAY: What's the most you've spent on a pair of shoes
TOYIN: $15,000 on a pair of sneakers from a Chinese designer, i had to be on a queue to get those sneakers, but it was worth it.
JAY: Approximately how many pairs of shoes can we find in your closet?
TOYIN: About a 1,000 pairs or even more. I have shoes i have collected over the years and i don't stop buying. I love to collect fashion pieces, especially shoes, bags and sunglasses.
JAY: Shoes, Bags, Hair, Sunglasses or jewelry, if you could pick only one, which would it be?
TOYIN: There's no thinking about it, Sunglasses. Sunglasses all the way, i can't even do without them.
JAY: Please share one shoe maintenance tip with us that you use and helps you keep your shoes longer.
TOYIN: There are these plastic shoe boxes i have that have holes in them, they have worked perfectly for me, keeping my shoes from heat damage. I think you may find them on Amazon.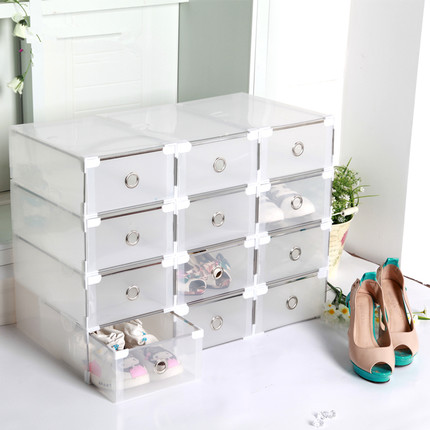 JAY: Suede or Leather shoes?
TOYIN: Leather shoes for me.
JAY: What's your pet peeve when it comes to women wearing shoes?
TOYIN: I can't understand why you would wear a pair of shoes and the heels are bending. If you can't handle the heel height, then please go lower.
JAY: Please share with us one style tip.
TOYIN: Wear Black. If you are in doubt, just wear black. Fat, Slim, Bloated, Light skinned, Dark skin skinned, Confused – There's a black for everyone.
And we talked about a whole lot more stuff. She's fun to be with, witty and funny. I enjoyed hanging out with her. Hope you enjoyed the interview and have learnt something new.
Peace, love and more shoes
Xoxo,
Jay