In Her Closet – Episode 19 – Meet Desperate Housewife, Michelle Dede
On the last Episode of In her closet, celebrity stylist Veronica Odeka shared with us her splurge on a pair of Jimmy Choos. This week, Tv Presenter, Compere and Actress, the Desperate Housewives Africa Star, Michelle Dede reveals in this interview that she's not your ultimate Shoe lover but she knows more than a thing or 2 about shoes.
A graduate of fashion design and fashion merchandising, the Co-producer of the
Flower Girl
movie, has lived in major cities around the world which has influenced her sense of style. I've been drawn to her since she started presenting on
Ebony Life TV's
Moments
alongside Bolanle Olukanni and Toke Makinwa. So it was an honor when she obliged me the feature. Let's get to the interview.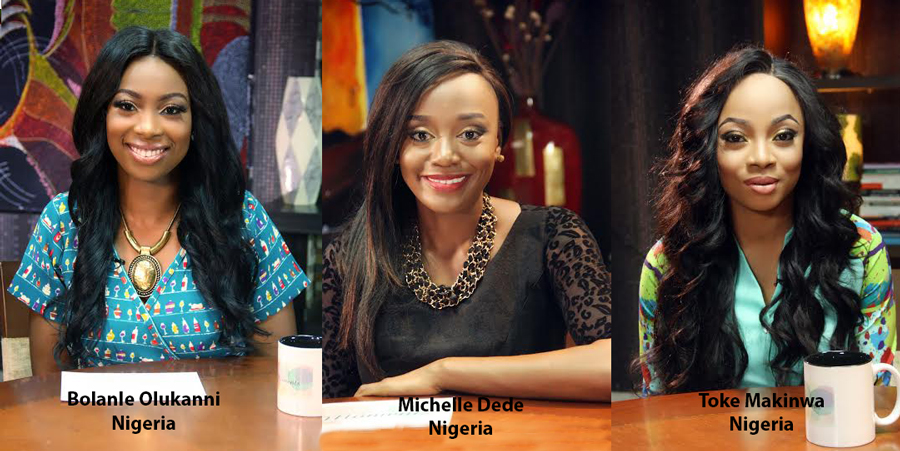 E INTERVIEW WITH MICHELLE DEDE
JAY: If you had to define style in one word, it would be??
MICHELLE: Eclectic
JAY: You have lived in over 9cities in the world, in which of these cities have you experienced the most fashion frenzy?
MICHELLE: Definitely London. I studied fashion design & fashion merchandising in university, so I was surrounded by fashion as well as gravitated towards all things fashion related. London is the home of unique, edgy, unconventional fashion which I love.
JAY: Your sense of style is simple but very chic and captivating, where and when did you become fashion conscious?
MICHELLE: At times the pieces I've had to wear for hosting certain TV shows, were a result of a compromise and not what I would have chosen myself. I would never describe my sense of style as simple.
My sense of style is eclectic. I dress based on my mood each day, taking inspiration from broad and diverse sources. I've always been interested in fashion, as a kid and in my teens in high-school, I experimented mixing and matching my clothes, to the amusement of my parents and older siblings.
JAY: On a scale of 1 – 10, how would you rate your love for shoes?
MICHELLE: 4 1/2
JAY: Approximately how many shoes can we find in your closet?
MICHELLE: 43
JAY: Splurge or steal, would you spend a fortune on designer footwear or find a less expensive high street option.
MICHELLE: Steal, I'd rather splurge on a watch, or jewelry.
JAY: What are your favorite shoes at the moment and why?
MICHELLE: Strappy sandals I have about 7 pairs in different colours. I need to stop buying shoes that look the same. My favourites are my black Manolo's and a pair of black Jimmy Choo's, both of which are about to catch fire cause I've worn them so much!
JAY: Where's your favorite store to shop for shoes?
MICHELLE: Selfridges in London as the options are endless. High-street to designer they've got it all under one roof.
JAY: Do you have any embarrassing shoe moments you'd like to share?
MICHELLE: When I was in university, I went out with a group of six friends, just as we got to a club, the heel of one of my 5inch shoes broke off. I was freaking out, yet laughing at the same time. Luckily one of my friends decided to run over to a 7-Eleven one block away from where we were with one of my shoes in tow. He returned with it glued/taped together and voila! It was still bent, but there was no way our night was going to be ruined because of a broken heel.
JAY: What is/are your favourite footwear brand(s)?
MICHELLE: Brian Atwood, Nicholas Kirkwood, Chloe Gosselin, Chelsea Paris and for high street footwear, Zara and Steve Madden.
JAY: Share any tips from styling to care and maintenance to DIY storage ideas in regards to footwear.
MICHELLE: Wear shoes you like, not what's fashionable or what your friends think you should wear.
Don't be afraid to experiment with colour, style is individual, so if you want to wear red shoes with a canary yellow outfit, do it!
Maintaining your shoes in Nigeria, especially Lagos can be tricky, because of damp, mold, heat, dust, etc, so ;
Keep shoes in a room that's well ventilated if your home is prone to damp, or a dry room, if you are lucky and your home isn't damp, whether you like keeping them in their boxes or on a shoe rack.
Have then cleaned regularly. Avoid keeping them close to sunlight as it changes the color of leather and fabric and can damage the material of your shoes.
Don't buy patent leather shoes, just admire them from a distance as the weather here will ruin them, I learnt that the hard way.
It was fun reading through her responses. Hope you learned as much as i did on maintaining your shoes. Thank you Michelle…
Peace, Love and More Shoes
Xoxo,
Jay