#IssaThrow Back To My First Official Fashion Outing
Social media for me has been one of the best things in terms of networking and knowing a lot more about the fashion world generally. From Instagram to Pinterest, Twitter and even Facebook, the wealth of knowledge i have acquired is amazing.
Being away from the fashion capital of the country would have slowed me down a lot but for the blessing of social media. I have wanted to attend the Lagos Fashion and Design Week for 4 years in a row and the distance just never made it work. But every Instagram post made me feel like i didn't miss a thing.
RELATED POST: LAGOS FASHION AND DESIGN WEEK
Now that i moved to Port Harcourt, there has been more hope of having a lot more fashion related social hang outs and it didn't take too long before the opportunity of one came by. I didn't get to know about it until the day before when it popped up on my news feed.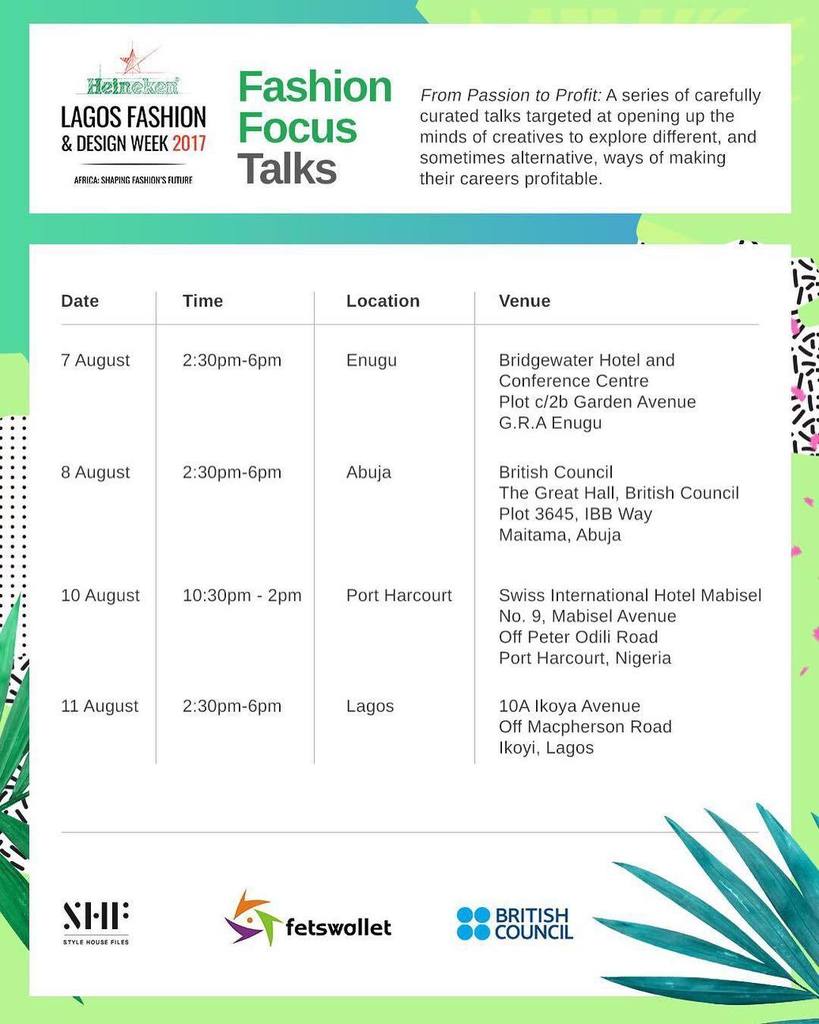 Featuring the legendary artist and renowned photographer Kelechi Amadi Obi, who is also the Editor of Mania Magazine, Top wardrobe stylist Yummie Ogbebor and Ex-model cum Model Scout Bolajo Fawehinmi of FEW modelling agency, the Lagos Fashion and Design Week brought the Fashion Focus Talk to my city and i knew i wasn't going to miss it for anything.
It was my first opportunity to meet Yummie who is one stylist i fancy so much.
RELATED: IN HER CLOSET WITH YUMMIE OGBEBOR
Perfect timing, kids dropped off at summer school, i rushed to the venue for the 10.30 am program which didn't start for another hour but i didn't mind.
With loads of upcoming fashion designers, hair stylists, photographers, i was the only blogger and crazed foot wear fanatic but it was a great chance to network.
The three speakers took their turns to talk about the theme PASSION TO PROFIT and it was worth every minute spent there. From their struggles, to the economic challenges and client briefs, i learned a whole lot and one thing that struck me which the three of them had to say was "STAY IN YOUR OWN LANE". It's easy to get distracted and lose focus of your goals wanting to be like the next person, but the best thing you can do in building your brand is identifying your strengths, educating your self, carving your niche and just basically, stay in your lane.
I loved it and then it was time to take pictures. I got to chat with all of them and the most amazing part was when Yummie walked in and went "Hi, Jay soledivas" with this really big smile like we were buddies and stuff. It felt good. Especially as we had never met in person except for the e-mails we exchanged when i wanted to get an interview for the IN HER CLOSET series.
I was a bit nervous about what to wear as it was my first major social hangout, i wanted to create a subtle but strong impression so i kept it simple. I settled for
Print Palazzo pants from New Look
Black Camisole from Mr Price
Long line Jacket from Pink Clove
Black Strappy block heeled sandals also from New Look
They were all warm and welcoming and Mr Kelechi has to be like the funniest man ever, but he had so much to share, oh and my son who is very much into taking pictures these days got to meet him too. I had to pick them up from school mid way through the talk sessions and thought he might as well.
I couldn't help but notice Yummie's shoes… Amen!!! I was there for the shoes and her total look and the way she styled herself in 2 Seperates was absolutely spot on.
I really do hope i can attend this year's Fashion week in Lagos and i look forward to many more events here in Port Harcourt and ultimately all the fashion capitals of the world.
Peace, Love and More Features
Xoxo
Jay