Exclusive Feature : Shoe Thrifting With The Brain Behind Instagram's OKRIKS – Ore Badmus
I have done my fair share of shoe thrifting in the past years. I will buy a pair of shoes i like from anywhere as long as they are cute, durable, comfortable and most especially affordable. There are different names for these items, the most popular being OKRIKA. Others call it BEND DOWN SELECT, SECOND USE and in Warri, where i used to live, it is called GBOGBO.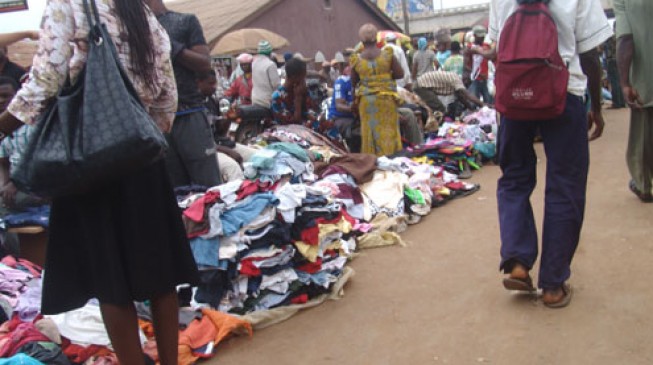 For the sake of packaging and the need to sound fancy, i'd stick to the term thrifting. Thrift shopping is basically assumed to mean buying used items at very cheap prices. Well, i guess that's what it is, but in this ExclusiveInterview with Ore Badmus, the brain behind the popular Instagram store OKRIKS, she explains that not all the items on thrift sales are used.
My experiences with shoe thrifting have not always been the best, as i end up with chipped shoes or faulty straps and heels. 70% of it has been an Epic Fail. But then i see some people who end up with amazing shoes that are almost as good as new and zero complaints.
Out of curiosity, i decided to get in touch with
Ore
who started a business out of selling thrift shoes on
Instagram
to people who have no idea how to go about making the right choices. She takes pride in being the No 1 Shoe Collector. She was down right honest and i wish i could share the audio recording of this very hilarious interview with you guys. Enjoy!!!
Exclusive Interview With Ore Badmus Of Okriks
JAY: When and how did you get into the business of thrift sales?
ORE: I got into the business in July 2017.
I love shoes and i have a good eye for really nice ones. Everyone always commented on my shoes and would want to know where i got them from. I didn't have money for very expensive shoes so i'd buy thrift shoes. I had a few people who would make me buy for them, especially when i tell them how much i got mine. Then i thought, i could turn this to a business. And so, i bought a few pairs and would resell to my colleagues. After which i moved to Instagram to enable me reach a wider market. It also helped for quick turn over , which I think is important in running a sustainable business. 
JAY: What has been your greatest challenge so far? With sourcing and with your customers.
ORE:Distance has been a challenge.
Having to get to the thrift market early enough, struggling with other buyers to get the best shoes and being careful not to pick a pair that has lost its value. With the customers, most people will tell you they can't wear pre-owned shoes. But not all these shoes have actually been worn, some even come with tags, and their soles show they haven't been used. So now i focus mostly on the ones that haven't been worn and a few 1st grade ones in very good condition. There's also the issue of trust as it is with most online businesses, but It gets better with every experience.
JAY: On a scale of 1 – 10 how profitable has it been?
ORE: I would say 7
JAY: I have heard some people say, they'd rather buy thrift shoes than go for brand new ones, do you agree with this?\
ORE: If i can get the same brands in a thrift market for less, of course i'd thrift it.
JAY: What is your favorite shoe style?
ORE: I like block heel sandals, and then anything with ankle straps, they have a way of making the feet look sexy. 
I like boyfriend shoes as well, it appeals to the tom boy side of me.
JAY: If I had to go to the open thrift market to buy shoes for myself, what would be your first advice?
ORE: Don't be in a hurry, take your time to scrutinize them. They may appear really cute, and out of excitement, you snatch them up only to get home and see the damages. 
JAY: Who is your favorite luxury footwear designer?
ORE: That would be Sophia Webster. I love her mix of colors and her designs.
JAY: How much would you consider too much for a pair of shoes?
ORE: (LAUGHTER)… There are some shoes i have bought recently that last year would have been a no no. Let me just say 100k. I can't buy a pair shoes for N100,000 because i can't afford it yet.
JAY: If you had to pick shoes, bags, jewelry, hair? Which would it be?
ORE: (*Not Edited Reply*)
Of course shoes nau, Ahn ahn, ehn shoooeeeesssss, shoes are like number 1 for me. Bags kwa, Jewelry how? Shoes are number 1
Her response to the last question got me literally laughing out loud. When i find someone who is as passionate about shoes as i am, it gets me excited. That would have been my response plus a little extra if the roles were reversed.
Hope you learned a thing or more from this interview, because i did. This is thrifting made easy, now you can thrift from the comfort of your home and have it delivered to you.
Peace, Love and More Thrift Sales
Xoxo,
Jay